Summary
Type: Chalet
Sleeps: 8 / 12
Bedrooms: 5
Bathrooms: 5
WCs: 7
Surface Area: 250m²
Facilities
Wellness & Relaxation
Hot tub
Sauna
Log fireplace
Cinema room
Pool table
Media / Audio Visual
Streaming services e.g. Netflix
Music system
Wii
Xbox
Outdoor & Parking
Balcony
Garden
Terrace
Outdoor furniture
Exterior parking
Kitchen & Laundry
Full-size oven
Fridge
Freezer
Dishwasher
Washing machine
Tumble dryer
Nespresso Coffee Machine
Iron & Board
Equipment Storage
Other
Mont Blanc view
Car - Unnecessary
Hair dryer
Make an enquiry
Virtual Tour
Layout
Chalet Seren is a rare find, with an elegant interior, complete with all the mod-cons you could ask for. It's centrally located, being just a couple of minutes walk from Chamonix's town square and the Aiguille du Midi cable car.

The open plan dining and living area spills out onto the large wooden deck, perfect for entertaining whatever the weather. The Mont Blanc range is your backdrop whether you are eating inside or out, with two infra-red heaters and a fire-pit to keep you warm and cosy.

The 12 seater sunken, wooden hot-tub is a wonderful spot for relaxing and taking in the views after an active day in the mountains. The fenced garden provides a little oasis of calm in the heart of Chamonix, with grass lawns and a chance to enjoy the French pastime of Petanque with its very own court.

Back inside there is plenty of room for the whole family. You can retreat to the sumptuous sitting room, for an evening snuggled around the roaring log fire. If you're a film buff or gaming guru head downstairs to the spacious cinema room, with a full entertainment system. Or relax with a drink around the pool table before adjourning to one of the generous en-suite bedrooms. If wellness is your aim, alternate between the large sauna and rain shower to relieve your aching muscles.
Why We Love It
The central location with everything on your doorstep, the chalet provides a little oasis of calm and relaxation
Outdoor hot-tub with Mont Blanc views set in a private garden complete with it's own Pétanque court
Welcoming yet elegant interior with a roaring log fireplace in the open-plan sitting room
A spacious cinema room providing a full entertainment package, including games consoles and streaming services. Its illuminated bespoke mountain range feature-wall brings a wow-factor to this cosy space
The downstairs games room with its tournament pool table, comfortable armchairs and complimentary bar, makes it the perfect spot for a nightcap
Large boot room with ski boot heaters, ski racks and plenty of seating and storage for all your mountain gear from boots to bikes
Bedrooms
The chalet sleeps up to 12 people in 5 bedrooms. There are a maximum of 10 separate beds available, configured as follows:
Bedroom 1: Double room (first floor) with en-suite bathroom, WC and balcony access with views of Mont Blanc
Bedroom 2: Double room (first floor) with en-suite shower room, WC and balcony access with view of Mont Blanc
Bedroom 3: Flexible double or twin room (first floor) with en-suite shower room and WC
Bedroom 4: Flexible double or twin room (first floor) with en-suite shower room and WC
Bedroom 5: Bunk-bed room (lower ground floor) with two sets of bunk beds (limited head room in the lower bunks) sleeping 4 and en-suite shower room with WC
Location
Supermarket:
600 metres - Carrefour or Super U
Bus stop:
140 metres - Helbronner (Mulet)
Ski Areas / Attractions:
Aiguille du Midi cable car: 400 metres
Le Brevent Planpraz lift: 1km
La Flegere Cable Car: 3.6km
Grands Montets: 9km
Savoy Nursary Slopes: 800 metres
Planard Nursary Slopes: 900 metres
Montenvers / Mer de Glace Train: 450 metres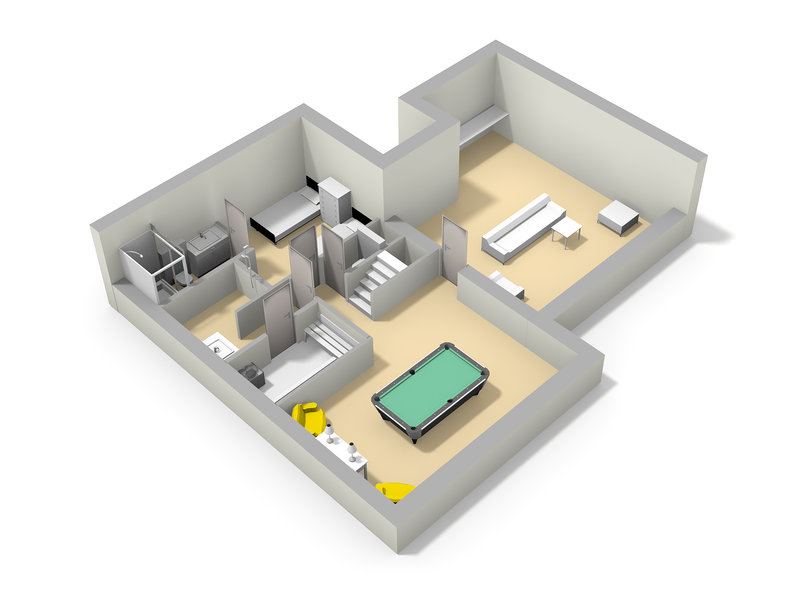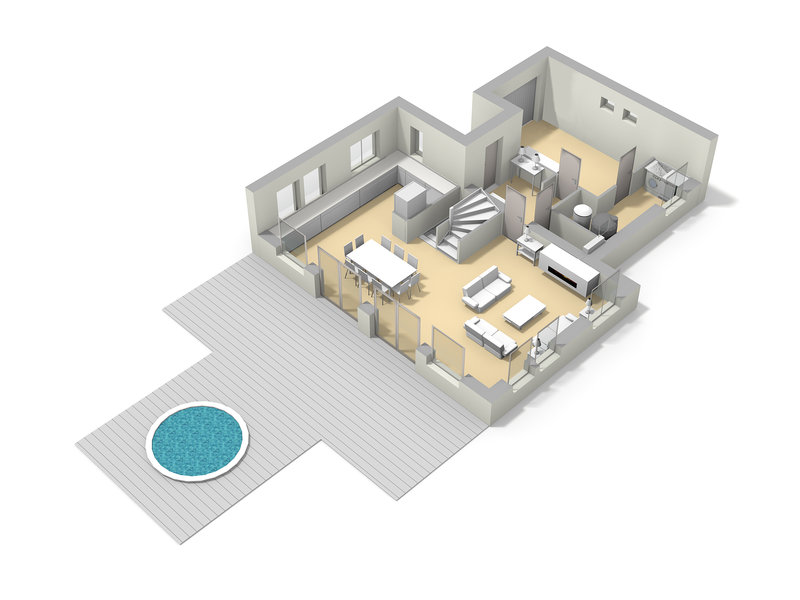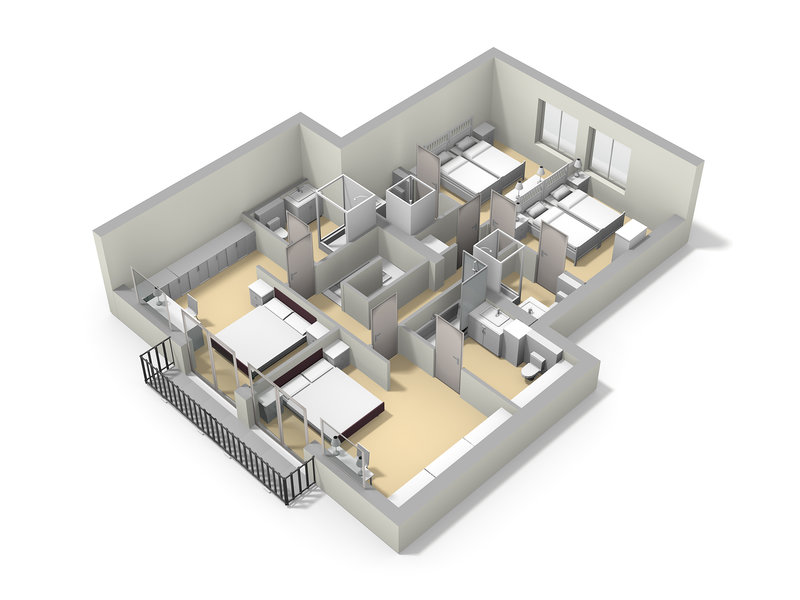 To view the 2D floorplan and see bedroom layout, please click here. You can also view the floorplan in Interactive 3D by then clicking on "3D" at the top right of the webpage.
What's Included
Exclusive use of the property and its facilities
Chalet fully prepared ahead of your arrival including all bed linen, towels and bathrobes
Personal welcome
Pre-arrival planning for your stay
Dedicated members of our Chamonix team available for any queries or advice
WiFi
External parking
Complimentary toiletries
Complimentary drinks
Logs for fireplace
End of stay cleaning
Carte d'hote (bus & train pass) per person
If you stay for 12 nights or more a mid-stay clean and linen change are included. Alternatively, if you do not wish to be disturbed during your stay we can provide 2 sets of linen on arrival
Finishing Touches
To make your stay even more special we can help organise extra services, at your request including:
Regular housekeeping
In-house catering with a private chef
Food deliveries and fridge stocking ahead of your arrival
Private concierge driver and vehicle
Delivery of bread & breakfast pastries and pre-prepared meals
In-house ski and boot fitting, rental and delivery
Childcare and cot & high-chair rentals
In-house massage services
Private yoga classes
In-resort errands
Our concierge team are also on hand to organise other extras such as:
Airport transfers
Ski lessons and guiding
Lift passes
Ski equipment hire
Winter and summer adventures including husky rides, paragliding, etc.
"Chalet Seren is a beautiful home in a very convenient location. Plenty of privacy, yet a very short walk to the restaurants and shops in the center of Chamonix. The Mountain Base management team provided great information and assistance to make our large group's stay excellent." - T. Gates, Feb 2020

"The chalet is amazing in every way. What you see in the pictures is what you get. Also the view from the garden and the jacuzzi is something else. Imagine skiing down from Aguille du Midi/Vallée Blanche or Brevant and then relax in the jacuzzi looking up at the same mountain tops. The standard is very high, the beds comfortable and there is a lot of nice details. You cannot go wrong here. If you are considering renting it, just do it. You will not be disappointed." - H.Aardalen, Feb 2020

"Five stars. The chalet was very well appointed and in excellent condition. Good location near town as well" - C.Jaroch, Jan 2020

"Beautifully appointed [chalet] with a stunning location. Very comfortable! Exceeded expectations! Grateful to our wonderful hosts for their hospitality!" - A.Ramras, Oct 2019

"We just spent a week here and we loved it! The location is absolutely central and ideal for walking everywhere downtown. We had a car and hardly used it given the perfect location of Chalet Seren. Satu and the hosts were fantastic and met us at the Chalet to help us get settled, and helped us get oriented to the chalet and the town. The views from all the rooms are amazing, the chalet has great parking for downtown (which is critical) and the home decor was fantastic. The kitchen is amazing, and made for some great nights eating in and on the deck for our large group. Very comfortable house for large groups, you will not be disappointed in Chalet Seren!" - G. Cromar, Jun 2019

"This chalet is amazing. It's beautiful and thoughtfully designed and great for a big group of people. All the amenities makes the stay luxurious and relaxing. I would stay here again and recommend to anyone." - L. Jönsson, Mar 2019

"Luxury interior, excellent location, jazucci, plenty of space for 12 persons. It was a real five start experience, best vacation so far." - J. Ahonala, Feb 2019
Price & Availability Overview
To calculate the price of your stay use the 'Check-in - Check-out' date picker above
A discount of 10% applies to 6 nights and 20% to 7 + nights. Short stays priced at a minimum of 4 nights. 5 nights minimum during the Christmas period (12 nights Christmas & New Year)
NB: There is legal requirement for guests to pay a tourist tax per night. The total tax will be confirmed before completing the booking process.
February 2021

| Mon | Tue | Wed | Thu | Fri | Sat | Sun |
| --- | --- | --- | --- | --- | --- | --- |
| 1 | 2 | 3 | 4 | 5 | 6 | 7 |
| 8 | 9 | 10 | 11 | 12 | 13 | 14 |
| 15 | 16 | 17 | 18 | 19 | X | X |
| X | X | X | X | X | X | X |
March 2021

Mon
Tue
Wed
Thu
Fri
Sat
Sun

X

X

X

X

X

6

7

8

9

10

11

12

13

14

15

16

17

18

19

20

21

22

23

24

25

26

X

X

X

X

X
April 2021

Mon
Tue
Wed
Thu
Fri
Sat
Sun

X

X

X

X

X

X

X

X

X

10

11

12

13

14

15

16

17

18

19

20

21

22

23

24

25

26

27

28

29

30
May 2021

Mon
Tue
Wed
Thu
Fri
Sat
Sun

1

2

3

4

5

6

7

8

9

10

11

12

13

14

15

16

17

18

19

20

21

22

23

24

25

26

27

28

29

30

31
June 2021

Mon
Tue
Wed
Thu
Fri
Sat
Sun

1

2

3

4

5

6

7

8

9

10

11

12

13

14

15

16

17

18

19

20

X

X

X

X

X

X

X

X

X

X
July 2021

Mon
Tue
Wed
Thu
Fri
Sat
Sun

X

X

X

4

5

6

7

8

9

X

X

X

X

X

X

X

X

18

19

20

21

22

23

24

25

26

27

28

29

30

31
August 2021

Mon
Tue
Wed
Thu
Fri
Sat
Sun

1

2

3

4

5

6

7

8

9

10

11

12

13

14

15

16

17

18

19

20

21

22

23

24

25

26

27

28

29

30

31
September 2021

Mon
Tue
Wed
Thu
Fri
Sat
Sun

1

2

3

4

5

6

7

8

9

10

11

12

13

14

15

16

17

18

19

20

21

22

23

24

25

26

27

28

29

30
October 2021

Mon
Tue
Wed
Thu
Fri
Sat
Sun

1

2

3

4

5

6

7

8

9

10

11

12

13

14

15

16

17

18

19

20

21

22

23

24

25

26

27

28

29

30

31
November 2021

Mon
Tue
Wed
Thu
Fri
Sat
Sun

1

2

3

4

5

6

7

8

9

10

11

12

13

14

15

16

17

18

19

20

21

22

23

24

25

26

27

28

29

30
December 2021

Mon
Tue
Wed
Thu
Fri
Sat
Sun

1

2

3

4

5

6

7

X

X

X

X

12

13

14

15

16

17

18

X

X

X

X

X

X

X

X

X

X

X

X

X
January 2022

Mon
Tue
Wed
Thu
Fri
Sat
Sun

X

2

3

4

5

6

7

8

9

10

11

12

13

14

15

16

17

18

19

20

21

22

X

X

X

X

X

X

X

X

X
February 2022

Mon
Tue
Wed
Thu
Fri
Sat
Sun

X

X

X

X

X

X

X

X

X

X

X

X

X

X

X

X

X

X

X

X

X

X

X

X

X

X

X

X
March 2022

Mon
Tue
Wed
Thu
Fri
Sat
Sun

X

X

X

X

X

X

7

8

9

10

11

X

X

X

X

X

X

X

19

20

21

22

23

24

25

26

27

28

29

30

31
April 2022

Mon
Tue
Wed
Thu
Fri
Sat
Sun

1

2

3

4

5

6

7

8

9

10

11

12

13

14

15

16

17

18

19

20

21

22

23

24

25

26

27

28

29

30
May 2022

Mon
Tue
Wed
Thu
Fri
Sat
Sun

1

2

3

4

5

6

7

8

9

10

11

12

13

14

15

16

17

18

19

20

21

22

23

24

25

26

27

28

29

30

31
June 2022

Mon
Tue
Wed
Thu
Fri
Sat
Sun

1

2

3

4

5

6

7

8

9

10

11

12

13

14

15

16

17

18

19

20

21

22

23

24

25

26

27

28

29

30
July 2022

Mon
Tue
Wed
Thu
Fri
Sat
Sun

1

2

3

4

5

6

7

8

9

10

11

12

13

14

15

16

17

18

19

20

21

22

23

24

25

26

27

28

29

30

31
August 2022

Mon
Tue
Wed
Thu
Fri
Sat
Sun

1

2

3

4

5

6

7

8

9

10

11

12

13

14

15

16

17

18

19

20

21

22

23

24

25

26

27

28

29

30

31
September 2022

Mon
Tue
Wed
Thu
Fri
Sat
Sun

1

2

3

4

5

6

7

8

9

10

11

12

13

14

15

16

17

18

19

20

21

22

23

24

25

26

27

28

29

30
October 2022

Mon
Tue
Wed
Thu
Fri
Sat
Sun

1

2

3

4

5

6

7

8

9

10

11

12

13

14

15

16

17

18

19

20

21

22

23

24

25

26

27

28

29

30

31
November 2022

Mon
Tue
Wed
Thu
Fri
Sat
Sun

1

2

3

4

5

6

7

8

9

10

11

12

13

14

15

16

17

18

19

20

21

22

23

24

25

26

27

28

29

30
Winter 2020/2021
€980.00 / night
€990.00 / night
€1020.00 / night
€1515.00 / night
€1780.00 / night
€1950.00 / night
X Booked
Summer 2021
€940.00 / night
€950.00 / night
€980.00 / night
€990.00 / night
€1025.00 / night
X Booked
Winter 2021/2022
€980.00 / night
€1015.00 / night
€1200.00 / night
€1780.00 / night
€1950.00 / night
X Booked
---