Restaurants in the Chamonix Valley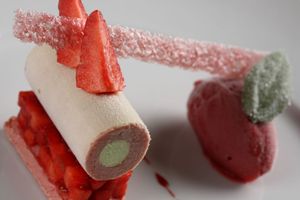 The Albert Premier is a popular fine dining restaurant in the centre of town and is the only Michelin starred restaurant in the valley. Run by the chef Damien Leveau who advocates simplicity in his cuisine, the menu showcases regional produce and is heavily influenced by the seasons. The Albert Premier is excellent for special occasions and highly recommended for those who enjoy culinary creativity.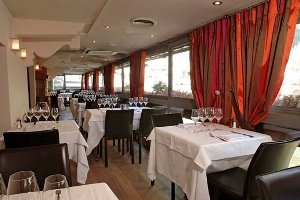 Atmosphere - In the heart of Chamonix overlooking the river
This is a firm favourite traditional French restaurant among locals and regular visitors to Chamonix. It features a charming terrace overlooking the Arve river which gives this restaurant its Atmosphere. The restaurant offers reasonably priced set menus as well as à la carte dishes, all to a very high standard. There is also a large wine cellar (300 labels) to satisfy everyone's tastes. We'd recommend Atmosphere for a treat for the family.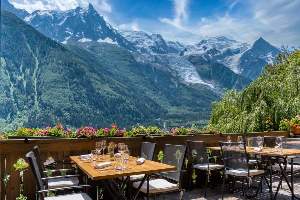 Auberge du Bois Prin - 3 Michelin Star chef Emmanuel Renaut
This is another wonderful restaurant for foodies and offers spectacular elevated views over Chamonix towards Mont Blanc. Situated a 3 minutes drive from the centre the Auberge provides a tranquil setting ideal for romantic meals. Head chef, Emmanuel Renaut, has 3 Michelin stars and is holder of the prestigious title 'Meilleur Ouvrier de France' so you can expect exceptional cuisine. Added to all this is 1st class service by friendly staff.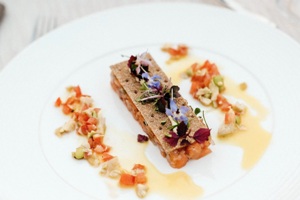 La Cabane des Praz - On the Golf Course facing Mont Blanc
Popular as a wedding venue as well as a restaurant the Cabane des Praz boasts a breathtaking backdrop for your meal. The chalet style interior offer a charming and cosy retreat in winter by the log fireplace. There are also two outdoor terraces facing Mont Blanc and Flegere where you can take-in the views. The menu includes all the French favorites and the dishes are as elegant as they are delicious.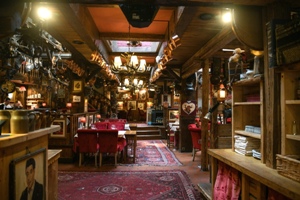 La Calèche - The full Savoyard Experience
If you are looking to have an authentic Savoyarde meal, packed with mountain atmosphere, look no further than La Calèche. This charming restaurant specialises in Savoyarde dishes including Fondue, Raclette, Tartiflette, Fondant au fromage and La Pierre Chaude. You will certainly get your cheese fix here! Portions are generous and the quality is excellent. All in all, La Calèche is the best place to sample the local cuisine.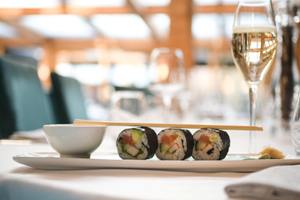 Le Caphorn - Seafood & Modern French Cuisine
Situated on the renowned rue des moulin, Le Caphorn is a restaurant with an excellent reputation for offering quality dishes in a refined chalet atmosphere. The varied menu offers seafood classics and sushi as well as modern French cuisine with an Asian influence. The atmosphere can get lively later on as there is a separate bar, Les Caves, downstairs. We'd recommend Le Caphorn for celebrations with friends.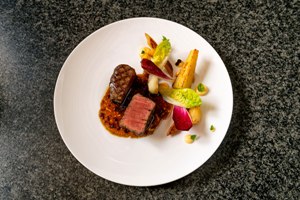 Le Comptoir des Alpes - Franco Italian Restaurant
This smart restaurant is part of the Hotel Le Morgane, just along from the Aiguille du Midi. The atmosphere is sophisticated and the service is pronounced. The menu combines local Italian and French produce to offer rich and appealing flavours to satisfy you after a day on the mountain.. Le Comptoir des Alpes is ideal for a tranquil intimate dinner for two.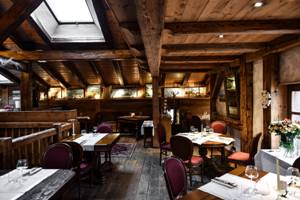 L'Impossible - Italian & Vegetarian Specialties
If you love freshly made pastas, breads and Italian cuisine, this is the restaurant for you. l'impossible is run by an Italian family and they focus on sustainable, fresh and organic produce. Set in a converted farmhouse dating back to 1754, the ambience is rustic and cosy. The menu is famed for it's originality and wide variety of vegetarian dishes. We love the fresh seasonal menu here that caters for most dietary requirements.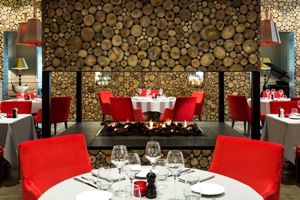 Le Matafan - Run by Michelin Starred chef Mickey Bourdillat
Based within the 5* Hotel Mont-Blanc this gastronomic restaurant has a chic yet relaxed open atmosphere. The food here is excellent and their presentation is spot on; it is not hard to see why the chef, Mickey Bourdillat, earned a Michelin star. The Matafan is a favourite for
their central location and their lunch menu, which offers great value for money.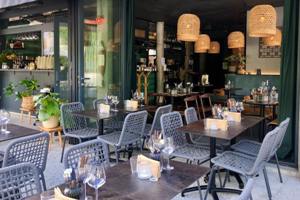 Mumma - Asian Fusion Cuisine, Tapas Style!
Mumma is a recent addition to the Chamonix Restaurant scene and proved to be hugely popular. You'll be lucky to have the same meal twice at Mumma as their menu is every changing according to the fresh ingredients available. You won't be disappointed though - it is always delicious. Mumma is designed with sharing in mind so the menu is tapas style - multiple small dishes to try and savour!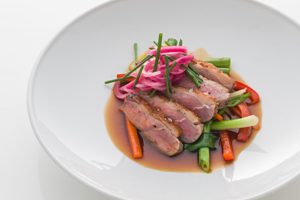 Munchie - A longstanding Chamonix favourite
Munchie has been popular with residents and visitors for a number of years as it offers delightful, refined dishes at reasonable prices. Situated on the atmospheric Rue des Moulins, the restaurant has a smart, inviting interior perfect for sociable evenings with friends. In the summer, the street side terrace is a great spot to soak up the town's vibrant ambience.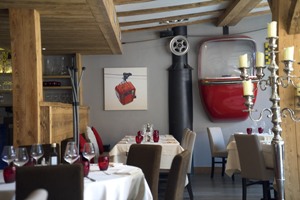 Le Télécabine - French Cuisine & Terrace Facing Mont Blanc
Le Télécabine is a spacious central restaurant offering quality classic French cuisine and good portion sizes. The ambience is smart but with a sense of fun for sophisticated yet relaxed meals. The restaurant boasts a large sunny terrace that is ideal for taking in the view of Mont Blanc whist enjoying your food and wine.